Warren Saunders Insurance Brokers have looked after the insurance program for AJ Grant since 2007. After looking after AJ Grant for so long, we are aware of your business and would be delighted to assist you with your insurance programme should you ever need us.
When it comes to our relationship with AJ Grant, don't just take our word for it. We feel that the words are best to come from our clients themselves. Below you will find a testimonial from AJ Grant Group CEO, Brad Honeyman detailing his experience with us over the years.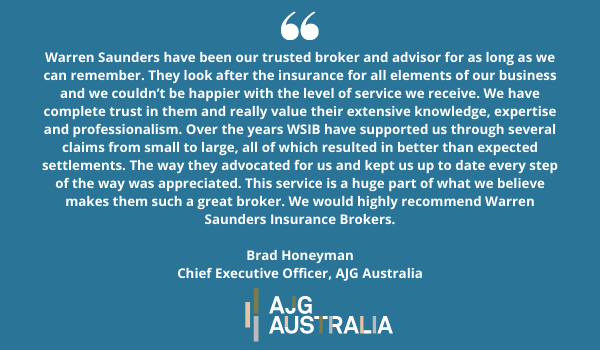 About us…
To give you a quick snapshot on us and what we do; we are also a local family operated business and we have been around for over 60 years now. We offer a range of insurance based services such as: corporate insurance, business insurance, workers compensation consultancy, claims management, Saunders Safety and Training, premium funding and AB investigations. We've won a number of industry awards, most recently the 2021 ANZIFF Medium Broker of the Year which is something we're very proud of.
If you would like to find out more information or receive a quote for your insurances, please fill in the form below and one of our highly experienced team members will be in touch.